178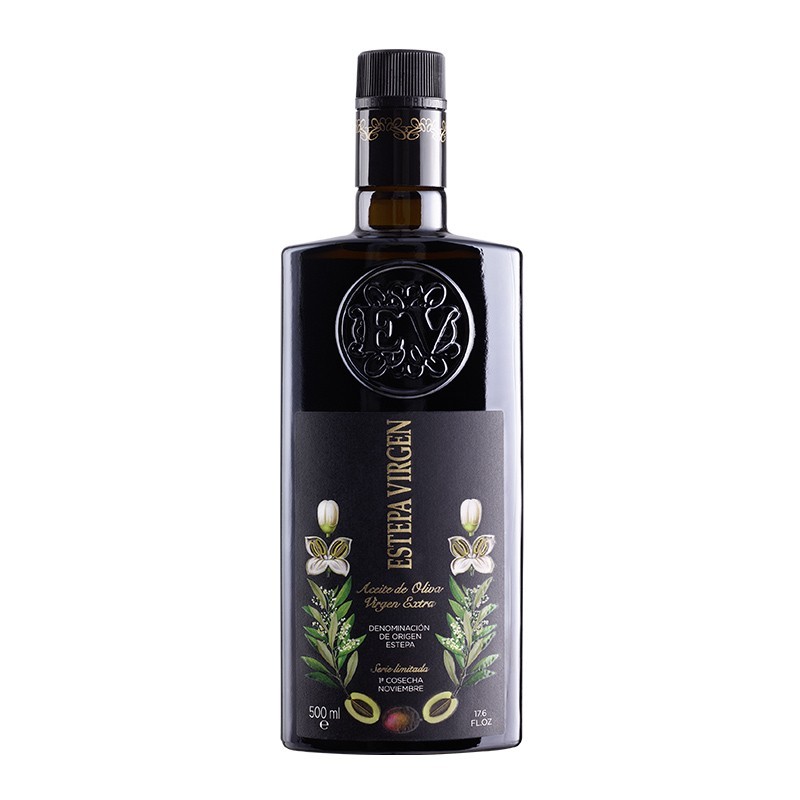  
Estepa Virgin Olive Oil Extra Premium Virgin 500 ml
Extra virgin olive oil, from an expert selection of all varieties of olives grown in the region of the Designation of Origin Estepa, very early harvested and cold extracted.
It has the certification of sustainable grown of Integrated Production and the high quality certified by the Protected Designation of Origin Estepa.
AOVE Premium

Estepa Virgen

Estepa Virgin is an olive fruit juice made exclusively from the most representative varieties of olives grown in the Estepa Designation of Origin territory, when the olives are still in the veraison stage, turning from green to reddish. It achieves a fruity sensory profile in the nose with a high note of olive leaf and herbaceous aromas with a background of almonds. On the palate, it is harmonious and complex with notes of apple, artichoke and other fruits as well as light bitter and spicy touches, characteristic of early harvested olives.

Best consumed raw, on toast, in salads and over pasta dishes.

1º Premio y accesit Diputación de Sevilla 2015
Medalla de Oro Mario Solinas 2013, Comité Oleícola Internacional (COI). Categoría frutado medio.
2º Premio Ministerio Agricultura, Alimentación y Medio Ambiente 2013. Categoría frutado medio.
1er Premio Mejor Aceite de oliva Virgen Extra Expoliva 2013. Categoría frutado medio.
1º Premio Diputación de Sevilla 2013
Medalla de Oro en Los Angeles International Extra Virgin Olive Oil Competition 2013. Categoría robusto
Medalla de Plata en Los Angeles International Extra Virgin Olive Oil Competition 2013. Categoría diseño packaging
Gran Prestige Gold. TERRAOLIVO 2012 (Israel).
«Prestigio Oro en Olivinus 2012 (Argentina)»
Gourmet d'Or. AVPA Paris. Campaña 2011/12
Premio Campeón Internacional, TerraOlivo 2011.
Primer Premio al Mejor Aceite de Oliva Virgen Extra. Concurso Internacional de Azeite Virgem Extra – Ovibeja 2011


Barcode: 84 22975 007037
Benefits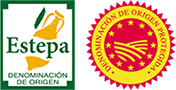 Estepa PDO Certification
The Regulatory Council of the Estepa Protected Designation of Origin establishes the highest quality requirements for of all the Denominations, guaranteeing the high quality of the protected oils.

Cold extraction
The entire process used to extract the oil from fresh and healthy olives is carried out at a temperature below 27ºC, preserving its organoleptic properties.

High vitamin E content.
Thanks to its excellent quality, rich in polyphenols and oleocanthal, this oil has a high vitamin E content which helps protect cells against oxidative damage.

Integrated Production
The system of agricultural techniques used in the cultivation of olive trees and production in the extraction of oil is respectful of the environment, and bears the Organic Production and Integrated Production Certificates.

Cooperative origin
Oleoestepa is an extra virgin olive oil producing cooperative that brings together the efforts of 18 associated cooperatives and their over 6,500 olive growing families to sustainably produce the best extra virgin olive oil from more than 8 million olive trees.

Kosher Certificate
This seal refers to foods that comply with the precepts of Jewish law.